Michelle Furlong (owner/director)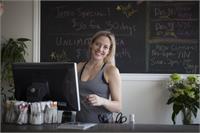 Michelle grew up Middletown, Ohio before attending college in Virginia, and graduate school in New York City. She took her first Bikram Yoga class in December 2007 to help manage the stress of a demanding career in the banking industry. After her first class, she was hooked and practiced regularly in New York and in London, where she lived for 2 years.
Michelle took a break from the banking world and graduated from Bikram Yoga Teacher Training in 2012. After spending a few years traveling and teaching, she decided to move back to Cincinnati to teach permanently. Michelle became the owner of Bikram Yoga Cincinnati in June of 2015.
Michelle Furlong (owner/director) instructs the following:
The traditional 90 minute Bikram class is calibrated for the stiffest beginners yet challenging to all skill levels.
Wanna feel fully human? Take this class.




Journey inward with Max & Abby of True Resonance, in an evening of relaxation and transformation with healing sounds. Bathe in the vibrations of rare Tibetan (Himalayan) singing bowls, chimes, Native flutes and more. It's a "massage for the cells, a lullaby to the soul" — an experience that can bring about physical, mental, and spiritual harmony. Max & Abby have brought back dozens of antique singing bowls from Nepal to create this transformative and relaxing group experience.

We begin the journey by tuning in to our own vibrational nature, exploring simple vocal tones that harmonize the body and energy centers. Then, recline comfortably on the floor and allow the sounds to take you deeper and deeper within.

Each person's journey is unique. In the silence that follows, rest in a stillness of body and mind; a state where your own healing and transformation naturally take place.




This sixty minute class moves through the traditional Bikram series with both tempo and flow.
Ready for your happy hour? Take this class!




INFERNO Hot Pilates is a High Intensity Interval Training (HIIT) class based on pilates principles. This low-impact, high-energy class builds core strength & long lean muscles...and is a TON of fun!