Michelle Furlong (owner/director)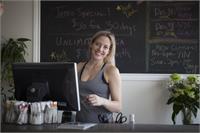 Michelle grew up Middletown, Ohio before attending college in Virginia, and graduate school in New York City. She took her first Bikram Yoga class to help manage the stress of a demanding career in the banking industry. After her first class, she was hooked and practiced regularly in New York and in London, where she lived for 2 years.
Michelle took a break from the banking world and graduated from Bikram Yoga Teacher Training in 2012. After spending a few years traveling and teaching, she decided to move back to Cincinnati to teach permanently. Michelle became the owner of Bikram Yoga Cincinnati in June of 2015.
Michelle Furlong (owner/director) instructs the following:
The traditional 90 minute Bikram class is calibrated for the stiffest beginners yet challenging to all skill levels.
Wanna feel fully human? Take this class.




This sixty minute class moves through the traditional Bikram series with both tempo and flow.
Ready for your happy hour? Take this class!




INFERNO Hot Pilates is a High Intensity Interval Training (HIIT) class based on pilates principles. This low-impact, high-energy class builds core strength & long lean muscles...and is a TON of fun!