Jackie Mistler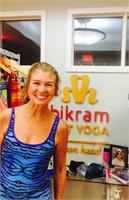 Jackie competed in athletics since childhood, traveling the U.S. in women's softball and competing in swimming, tennis, volleyball and cross country. In 1980, she signed on at Eastern Kentucky University on a full basketball scholarship after scoring over 3000 points in high school before the 3 point shot. Her career was sidelined by a serious injury which crushed her left leg and has since had over 20 surgeries on leg. Through it all, she earned her BSN in Nursing at EKU and has had worked in several areas of medicine, including dialysis, mental health, pharmaceutical research, paramedical insurance, and is currently working as an occupational nurse for the federal government. Since raising her 3 children she works on her golf game, swims, bikes, teaches group fitness classes, loves music, and is passionate about dogs however, she puts healing her mind and body mentally, spiritually, physically, and emotionally first by practicing Bikram yoga. " I've been practicing since 2001 & teaching since 2006 attending Training in Los Angeles. Yoga is my mental de-stresser and has no hard impact on my joints. I try to teach every class with kindness, hope, love, and humor. My favorite phrase is ' What doesn't kill you makes you stronger.' Simply put, never give up!"
Jackie Mistler instructs the following:
INFERNO Hot Pilates is a High Intensity Interval Training (HIIT) class based on pilates principles. This low-impact, high-energy class builds core strength & long lean muscles...and is a TON of fun!




This sixty minute class moves through the traditional Bikram series with both tempo and flow.
Ready for your happy hour? Take this class!




The traditional 90 minute Bikram class is calibrated for the stiffest beginners yet challenging to all skill levels.
Wanna feel fully human? Take this class.