Samantha Young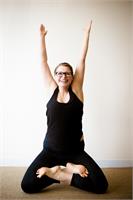 Sam began her practice in 2011, by chance while working at a community run bicycle repair shop in Lexington, Kentucky. The studio where she lived sponsored her shop for the night and ran a class by donation for the non-profit.
She hated it. It was too hot. It was too loud. She was too naked. And what was that big HA-HAAAA sound?
Quickly, she became addicted to its many benefits for both mind and body. After that, she knew this was something she had to do everyday for the rest of her life.
In fall 2013 she attended Bikram Yoga Teacher Training in Los Angeles for 9 weeks and completed 500 hours of training.
Her background is in Journalism and Social Work, she continues to keep a travel blog of her international teaching experiences.

Since graduation she has taught all over the Midwest/ Southern United States as well as South East Asia, Honduras and Mexico.
Samantha Young is currently not instructing any classes.