Jwala Prasad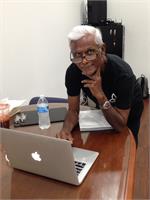 In the mid 90's, I attended a ten-day vipassana meditation course. During that time, I had a hard time sitting on the floor as my whole body was hurting. I thought yoga may help.There were no yoga studios in Cincinnati at that time. Around 1998 the first Ashtanga studio opened and I became a regular student, and was certified to teach Ashtanga yoga in 2001. About four years ago, I was vacationing in Orlando and the only yoga studio close by was Bikram. I practiced every day during my stay and was totally addicted. I love the way the sequence of postures was organized. It has a tremendous amount of therapeutic benefits, physical as well as mental. I continued to practice at Bikram Yoga Cincinnati. After I retired from my job as an Anesthesiologist, I attended Teacher's Training 26x2 directed by Craig Villani of Raja Yoga Academy. I love to share my practice, teach, and spread the philosophy behind this yoga.
Jwala Prasad instructs the following:
This sixty minute class moves through the traditional Bikram series with both tempo and flow.
Ready for your happy hour? Take this class!




The traditional 90 minute Bikram class is calibrated for the stiffest beginners yet challenging to all skill levels.
Wanna feel fully human? Take this class.