Donna Rubin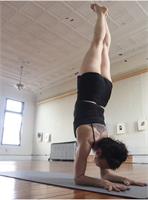 Donna has been guiding yoga classes professionally for over 13 years and has over 25 years of movement/dance /mind body breath training and experience.
She received her first Yoga teaching certification in the Ashtanga lineage through "It's Yoga" in 2004 while living in San Francisco, where she has spent a total of 10 years dancing and training amongst the diverse wealth of dancers, movement specialists and Yoga teachers in the Bay Area. For the past 4 years she has been diving deep into study of the Ghosh lineage of yoga after finding the therapeutic benefits of a consistent practice in the 26x2/Bikram method and continues to explore the teachings.
Donna is honored to help guide and empower students to cultivate a Yoga practice in a way that is challenging yet always nurturing, graceful, honest, playful, and steadily fueled with compassion and love.
Donna Rubin instructs the following:
The traditional 90 minute Bikram class is calibrated for the stiffest beginners yet challenging to all skill levels.
Wanna feel fully human? Take this class.




This sixty minute class moves through the traditional Bikram series with both tempo and flow.
Ready for your happy hour? Take this class!




This warm class will focus on postures with long, slow holds designed to target the connective tissues, ligaments, bones and even the joints of the body. It is a perfect complement to the more muscular yang energy of our bikram classes - and will leave you feeling blissed-out after a long week!