Brooke Schubert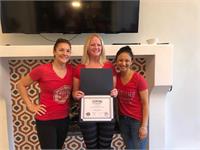 After years of being a gym rat, a torn hamstring sidelined me from my daily workouts. At the urging of a friend, I tried Bikram for the first time in 2012. I took my first class, hated the heat, and vowed to never come back. After getting home, I suddenly realized my hamstring felt looser and less painful than it had in two years and decided to give this Bikram thing another shot.

I kept at it and after some incredible physical and mental breakthroughs through the yoga, I realized that someday I'd like to teach and help others through this journey. When an opportunity for teacher training that fit my schedule came around, I jumped at it. I'm having so much fun teaching and practicing with our Hot House community, and grateful to be able to teach and learn with everyone here!
Brooke Schubert instructs the following:
This sixty minute class moves through the traditional Bikram series with both tempo and flow.
Ready for your happy hour? Take this class!




The traditional 90 minute Bikram class is calibrated for the stiffest beginners yet challenging to all skill levels.
Wanna feel fully human? Take this class.