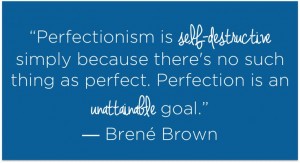 The Real Me
You might think "Confessions of an Imperfect Yogi" is a strange title for a blog, especially for a yoga teacher and now studio owner (!), but it feels right to me. I don't know if there is such a thing as a perfect yogi, but I am quite sure I am not it. I do love my yoga practice, but sometimes (OK, lots of times) I still have to drag myself to class. I try to eat healthy, but there are days when I am running on a steady diet of caffeine and sugar. I talk about not letting anything steal your peace, but I start cursing like a sailor when I get stuck in traffic…the list goes on and on.


The thing I struggle with the most is the idea that I am a yoga teacher, so I SHOULD be healthier, skinner, more patient, more kind; I SHOULD be able to do impossible yoga poses, and look good doing them; I SHOULD only eat organic, raw, sugar-free, dairy-free, gluten-free, etc. etc… In other words, I SHOULD be "perfect".


A few months back, Josie posted a Ted Talk video of Brene Brown, a researcher on vulnerability, courage and worthiness. It was such a great video, that I ran out and got her book "Daring Greatly". In it, she has a lot to say about how perfectionism, instead of helping us, actually stands in the way of joy, success and "wholeheartedness":


"Perfectionism is not the same thing as striving for excellence. Perfectionism is not about healthy achievement and growth. Perfectionism is a defensive move. It's the belief that if we do things perfectly and look perfect, we can minimize or avoid the pain of blame, judgment and shame. Perfectionism is a twenty-ton shield that we lug around, thinking it will protect us, when in fact, it's the thing that's really preventing us from being seen."


So, in an effort to be more "seen," I wanted to share this video with all of you.


This is me, competing at the 2013 Georgia Regional Yoga Competition. The thing about this video is that I've never shared it before….never posted it on Facebook, never sent the link to my friends, nothing. Why? Because I didn't think it was "perfect" enough to even consider sharing. When I watched this video the first time, almost all my thoughts were negative… my leg is too high in Standing Head to Knee…I almost fall out of Standing Bow Pulling…the headstand is not perfectly symmetrical….holy cow I look terrible in a leotard…and so on.

But, what I am trying to focus on now is the fact that I came in second place that day, the crowd goes wild at the end, and I should be so proud that I got up on a terrifying stage in an even more terrifying outfit and did the best I could with what I had that day, in that moment. And it was pretty awesome.

So, with all that in mind, I have adopted a new mission statement. One that I can turn to when all those "SHOULDs" get in my way, and one that I can hopefully instill for our yoga studio and yoga community.

Here it is:
You don't have to be perfect.
Be who you are.
Try your best.
Do what you can.
Love what you've got.
Can't wait to see you all at the studio.
M